Sometimes reading the room and understanding what outfit you should be wearing is very important. You probably wouldn't wear techwear to an interview, unless of course you were interviewing at Uniden. Your outfit should showcase that you are serious about the said interview, and you want to exude professionalism. So, you show up in clothes that represent that. That, or you're completely nervous and want to hide your sweat stains through multiple layers.
You wouldn't show up to a funeral in a clown costume, would you? Well, unless clown costumes were the person's dying wish then you better put on your best red honking nose. The point is that certain clothes fit certain situations. 
People often wonder when the best time or situation would be appropriate to be decked out in techwear.
Errolson Hugh and his gang
There's no secret that techwear outfits can be intimidating in nature. Majority of techwear fits contain a ton of black clothing and enough buckles and straps to put people who don't understand the fashion into a weird place. Techwear fits serve a myriad of situations and preferences, so I guess it just boils down to how comfortable you feel wearing your techwear in everyday situations. Given the high functionality of techwear though, let's get into some often-used places for techwear. 
Hiking
Majority of the boots and or shoes that are part of a complete techwear fit have high functionality, and if you don't mind your items getting some usage, then outdoors is the place to be. Especially if your kicks have any sort of Gore-Tex technology. That technology is built specifically to keep harsh conditions away from your feet. 
If you happen to have the Salomon Snowcross Advanced boots, for instance, you would do well going on a long hike in the snow. Those boots are specifically made for hiking in the snow, especially because they contain Contragrip technology which provides maximum grip when its needed and special fabrics that keep the wearer dry. 
Image credit: awe365.com
That's not to say that those boots only function as hiking boots to protect one from harsh terrain. Some use the Snowcross boots to just complete their techwear fit, especially considering the black Snowcross boots look super clean. They look every part of the techwear style. Sleek, futuristic, and black. That's not to say all techwear should be black, but a good majority of it is.
Let me harp a bit more on the outdoor and hiking aspect. Most techwear is built for just that. Waterproof or water repellent shell jackets keep moisture out, insulated performance layers keep warmth in, and the base layer adds even more comfort. Most techwear is built around complete functionality, so one of the best places is to take a hike, literally.
Sometimes you might not even need to have the full three-layer system on top. Say you happen to be snowboarding or doing some sort of snow activity, but the sun is completely shining, you might want to keep your base layer and shell jacket on only. The thinner layers will keep you from overheating and you still benefit from the waterproof or water repellent technology from your outer shell jacket.
Rainy environments
In the same light, those who live in consistent rainfall environments often find wearing their techwear serves them for even deeper practical purposes. As stated above, outer shell jackets often contain some of the strongest water repellent and waterproof material on the market, so naturally those in heavy rain will want to keep themselves dry.
Image credit: grailed.com
Like the founder of Uniden, for instance. He used to live in the suburbs of Seattle, which came with tons of rainfall. Wearing a full techwear fit in the heavy rain benefited him and pretty much everyone else who must deal with constant rain.
These are just some of the more practical means in your techwear fit. But now that we have detailed that a bit, we can get more into the reasons in which you might throw on your techwear: the style.
Photo Shoots
Influencers of the world, stand up. People often sport their techwear just to be seen in such sleek attire. Style matters greatly to this fashion and paying top dollar for clothing items would make anyone want to rock them in a social setting, or for their preferred social media platforms. If I could afford a full Acronym fit, best believe I would be peacocking my way to the bank. I would have to be well-off to afford that is what I'm saying. Have you seen those prices? Whew! 
The higher end techwear clothing looks amazing though, and my point is that if you can afford it, wear it. Period. Showing off your techwear might sound bombastic in nature but flaunt if you got it.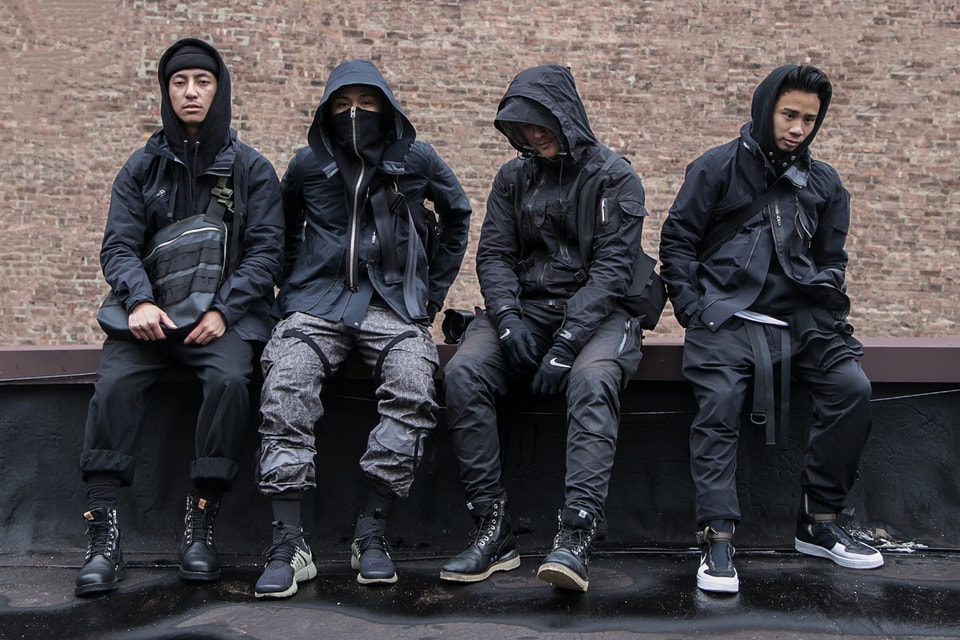 Image credit: hypebeast.com
If you happen to be part of the Warcore loving side of things, you might wear your techwear to a recreation of the Metal Gear Solid games. That had to have gotten a laugh. No? Ok, moving on.
Most of the time, people like to take photos of themselves, or they happen to be legit models for a techwear brand or designer. Naturally, they would have to create content of themselves wearing the gear, so this situation would obviously require going outside in a full techwear fit. Especially those in the big city environments, where the style is likely more widely accepted, considering techwear is often synonymous with streetwear.
Everyday activities
Sometimes people just want to wear what they want and when they want to. You could be just driving to your job but have a complete techwear fit on. The idea is that the wearer is wanting to remain as comfortable as possible, and sometimes that means being in a complete head to toe techwear outfit.
Big City Commute
If you happen to live in somewhere like New York City, you know that conditions can be severe and rapidly change. Having a complete techwear fit can allow you to adapt to these ever-changing conditions. From driving your car, to catching the subway, and just traversing a cityscape that is sometimes chock full of differing weather conditions.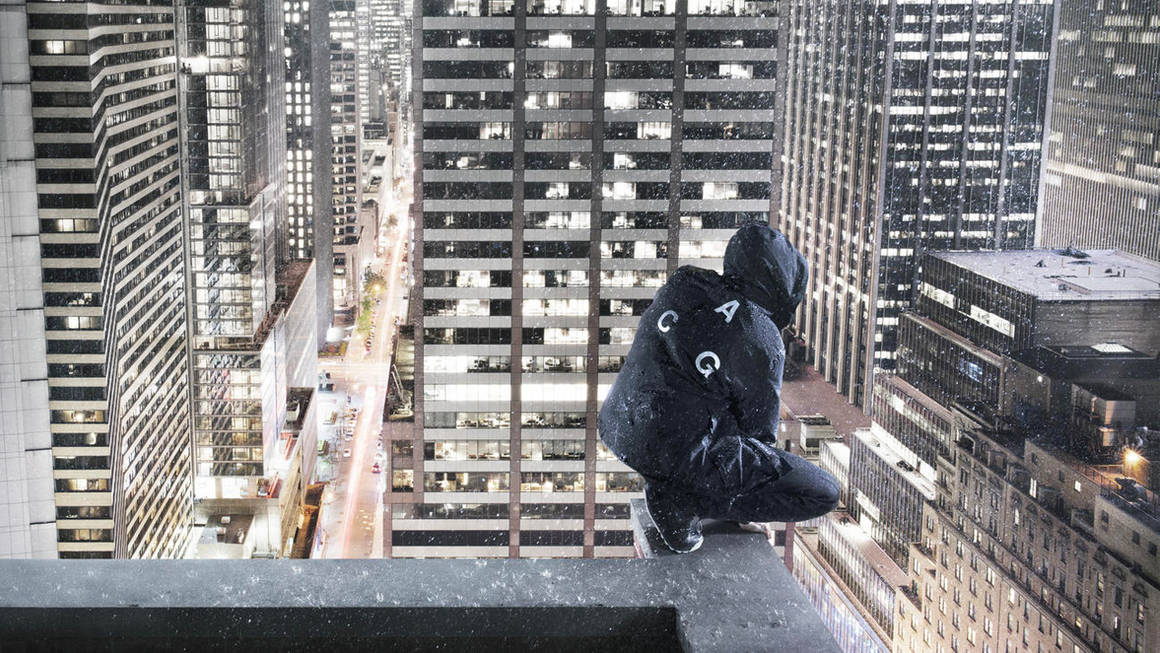 Image credit: thesolesupplier.co.uk
Simply put, knowing when the proper time to wear your techwear is completely subjective. Techwear holds high function and style, which make it one of the most exciting fashions in the world, and why some choose to wear their fits every day. Use it for practicality or wear it just to show that you spent your hard-earned money on it.
Wear what you want when you want to, unless you live at home and your mom is screaming at you. If that's the case, we can't help you.