If you happened to have read our other techwear guides, you might then be wondering what shoes would complete your techwear fit. There are a ton of options out there, with varying price and functionality. That's ok if it sounds daunting, just read our guide about some of our favorite techwear shoes.
Acronym Presto
A good place to start is with the Nike X Acronym collaboration: the Acronym Presto shoes. Acronym is one of the most high-end techwear designers out there. Majority of the Acronym options are high priced, but they partnered with Nike to release one of the most cost-effective shoes they currently have their name on. 
Most of the Acronym Presto shoes run around an average of $150-$250. That is reasonable in comparison to most Acronym products, and they look clean.
The Acronym Presto shoes are meant to give off the feeling of a "slipper" in the form of a shoe. Zippers were also added to both sides of the heel, to give off the ease of putting and taking off these shoes, while providing comfort and full support. The zippers also have a locking function that can be implemented to create a custom look based on the wearer's preference.
The tight ankle taper allows these shoes to work seamlessly with techwear pants that are slim in nature or can be adjusted. For instance, the 042 Cargos 2.0. Image credit: highsnobiety.com
Image credit: @kicksonmyfeet_
Acronym VaporMax
Another collaboration between the famed Acronym and Nike, are the Acronym VaporMax shoes. These kicks are also more reasonably priced and average anywhere from $150-$250, based on what retailer you happen to visit.
Along the same lines as the Presto's the VaporMax shoes operate in the same way as providing the wearer with the feeling of a "slipper". This is achieved even further in the VaporMax shoes, due to the no lace system. The VaporMax kicks stayed relatively unchanged by Errolson Hugh, as he wanted the shoes to remain a more visual project. The shoes haven't been upgraded with zipper technology or any other adage, as they already operate in the comfort space.
These shoes look great with wide cropped pants, like the P30-A-DS from Acronym.
Image credit: @tvk30
Image credit: @agga.city.gang 
 Image credit: @msk18039 
Bamba 2 – Bamba 2 GTX
The Bamba 2 and the more hardcore Bamba 2 GTX is a collaborative effort by famed designer Boris Bijan Saberi and Salomon.
As far as performance is concerned, the Bamba 2's are the top tier sneakers. Imagine wearing a McLaren on both feet, stuffed with memory foam, that's what the Bamba 2's would feel like. With zipper fastening, and high-quality soles, these sneakers are some of the best available. The Bamba 2 GTX incorporate Contragrip outsoles for maximum grip. An EVA sole inside also provides high-level comfort. The reflective tongues on both models offer a sleek and functional option. 
Average price for the Bamba 2 sneakers is in the $500-$600 range. They are not for the faint of heart in terms of pricing but if you want the best you're going to have to pay for the best.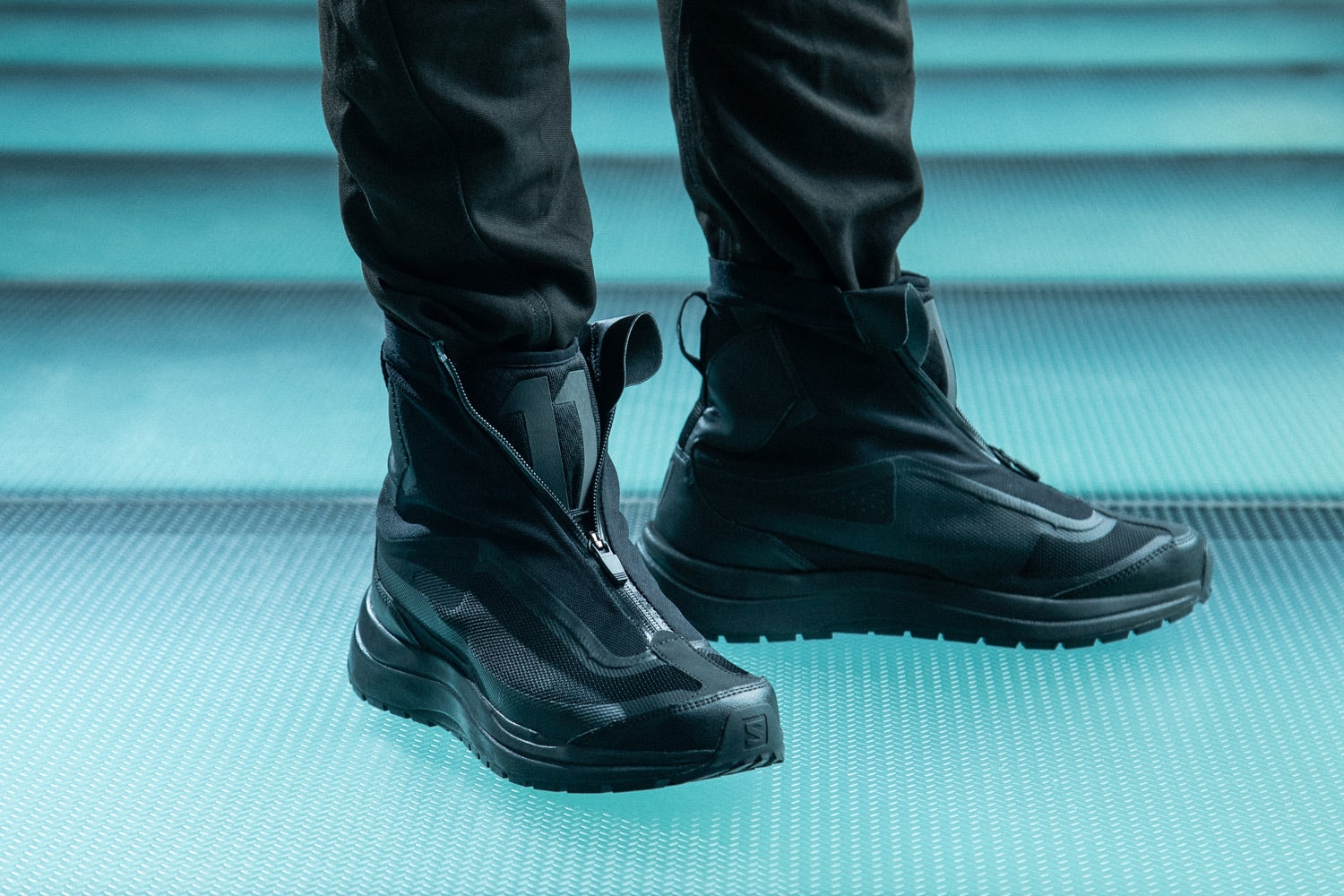 Image Credit: HBX
Image credit: @obsidian893
Image credit: @ramenraff
Image credit: facinate.jp 
Nike SFB
Another Nike shoe that has made its way to the top of the techwear list are the NIKE SFB boots. They look clean in black and would complete any techwear fit. They average around $150-$200 based on retailers and are another more affordable option for techheads.
Durably nylon canvas and synthetic leather make this boot prevail in speed and flexibility in rough terrain. The boot is inspired by Nike Free technology, which incorporates a flexible sole and aggressive traction pattern for multi-service grip and internal rock shield to prevent punctures.
If you want your Nike SFB to be on steroids, you might be interested in the Nike SFB Gore-Tex variant. 
Image credit: r/techwearclothing 
Image credit: @jonomfg
Nike ACG Gore-Tex Mountain Fly
The Nike ACG Gore-Tex Mountain Fly shoes are some of the most affordable in terms of containing the Gore-Tex technology. Nike has them listed on their website for $220. The design and uniformity of these shoes would certainly bolster any techwear fit.
The Nike ACG Gore-Tex Mountain Fly shoes come standard with a lightweight upper that has Gore-Tex technology built into it to keep extreme weather out, and a gator for on-the-go personalization. Crag-inspired traction is achieved through the sticky rubber outsole. Nike React foam with Vaporfly technology is also incorporated for maximum comfort.
 Image credit: @realbestshoes
Image Credit: HIGHSNOBIETY / VOLKER CONRADUS
 Image credit: @ceasarsalade
Nike X MMW Free TR 3
The Nike MMW Free TR 3 designed by Matthew M. Williams, who is the creative director of Givenchy and founder of 1017 ALYX 9SM. These are easily the most futuristic of the bunch and would look amazing in anyone's techwear fit. Depending on what color you go with, the average price is anywhere from $250-$400 based on what retailer you go through. 
The Nike MMW Free TR 3 comes with a detachable crampon, track spike-inspired speed lacing, and a medial collar zipper to provide more ease of entry. The detachable crampon can also be placed on other shoes, if the wearer so wishes.
 Image credit: @shengyikoh
The MMW Free T3 Crampon on the Y-3 Qasa Boot is pictured above.
 Salomon XT6
Salomon is one of the leading boot makers in the world, and that is the case for the Salomon XT6. Originally, these shoes were made for athletes involved in long-distance racing through harsh conditions, but they can be used to complete any techwear fit.
The black Salomon XT6 shoes run $190, pulled directly from the Salomon website, and are a great cost-effective option. The XT6 offer EVA cushioning for softer landings, mesh and TPU film construction to offer lightweight construction and durability, and downhill chassis for lug geometry for far more stability.
 Image credit: @malsook__
 Image credit: @4.hsun 
Salomon SnowCross
Another Salomon option are the Salomon Snowcross Advanced boots. This is the more high-end option on this list as far as Salomon is concerned. The black Salomon Snowcross Advanced kicks are currently $260 on the Salmon website. 
The Snowcross Advanced boots offer all-terrain grip through the Contragrip technology, which adds even more grip than before. The boot is fully waterproof allowing the wearer to remain dry and keep out moisture like rain and snow. Abrasion resistant mesh is coupled with TPU film to keep this boot lightweight.
This boot looks clean and would complement most techwear fits, as they give off the outdoor style completely.
 Image credit: @0012be 
Converse X A-Cold-Wall*
The Converse X A-Cold-Wall* collaboration brings a new look to the traditional Chuck Taylor Converse that is widely known. It's almost as if the sneaker has been reinforced and turned into a boot that offers plenty of protection and support. 
The Converse A-Cold-Wall* retail for around $160 but currently average around $120 per third-party retailers. The Converse X A-Cold-Wall* black version looks sleek and complement any techwear fit. They offer zigzag stitching through a nylon body. This triple-black nylon upper also offers more support than ever. The thick rubber outsole adds even more protection.
 Image credit: @salticastreetmarket
Image credit: @amateur_store  
Y-3 Qasa High
The Y-3 Triple Black Qasa high come from the Y-3 collection. Famed designer Yohji Yamamoto and Adidas deliverer one the highest regarded sneakers in the techwear space. The Y-3 Qasa High are of the higher-end spectrum and average around $300-$500 based on what retailer you go through.
The Qasa High contain full neoprene uppers, leather detailing, and elasticated paneling to give off a very clean and uniformed look that would complete any techwear fit. The rubber sole unit also gives additional comfort for the wearer. There are different color options, but the triple black Qasa High's look extremely sleek.
Image credit: @zjyunnn 
Image credit: @carlkho_ 
There you have it, 10 of the top techwear shoes and boots to complete any techwear fit. Some high-end and some on the more affordable spectrum to bring in those who might just be starting their techwear journey. Let us know which ones are your favorites, or if you have recommendations for other kicks that techheads should know about.