Techwear is most famously known for its different functionalities and capabilities. That is where the name gets its designation from. Techwear means technical clothing. If one is to be made to look futuristic, one would want their clothes to function in a futuristic manner.  
Well, that leads us to an important question. Do techwear fans often use every feature that is associated with their techwear? Some likely do, but to say that all techwear fans utilize all the functions at once, would be a bit of a stretch. Style matters, of course, but the real value of owning techwear comes from the high functionality of the clothing.
If any of you happen to read comics or have seen Marvel films that include Iron Man, you would likely know that Tony Stark's Iron Man armor suits come with all kinds of weaponry and gadgets that allow for a myriad of uses. Iron Man can adapt to a ton of situations due to the armor he is wearing. That is essentially how techwear operates. You may not be able to fly in techwear, but you will certainly feel like you can. 
For example: techwear jackets. Majority of them come with straps that are interchangeable from the outside of the jacket to the inside. Now, most people would often think that the straps being removed is strictly for looks, but it's not. Those removable straps can be placed on the outside for looks or the inside to create a jacket backpack, for rapidly changing conditions such as heavy rainfall to excessive heat. 
Say you start your workday, and it is raining outside, you would clearly have your jacket on. Now you get off work and realize that it is hot, you can then unzip your jacket to reveal the straps to turn the jacket into a backpack. The removable straps give the wearer the option to transform their jacket to benefit any given situation.
Image credit: reddit.com
This same transformative ability is used for techwear pants that come with an adjustable taper. Some people like a slimmer fit while others prefer a wider fit to their pants, especially when certain kicks call for a certain look. The adjustable taper adds even more customization for the wearer.
That is just another function that techwear clothing can provide, but again, do techwear wearers truly use this function all the time?
The simple answer would be yes, but that is likely not the case for most people. Majority of the people in the world now use iPhones, but does that mean everyone uses every single feature their iPhone comes with? Not likely. The fact that those functions exist just gives everyone the confidence from owning a phone that has a multitude capabilities. That's the same with techwear.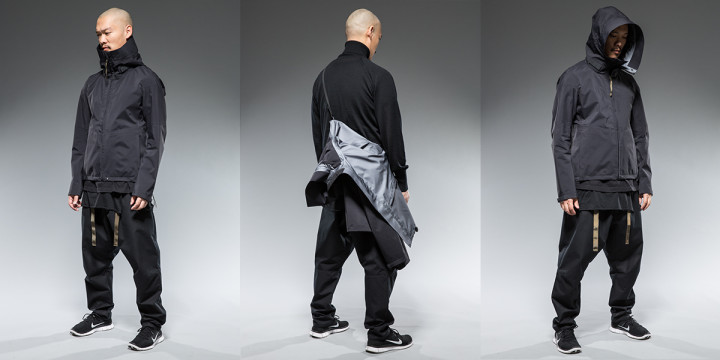 Image credit: ACRONYM
Techwear is more about the stylistic choice and comfort of knowing you have an article of clothing that can do a multitude of functions without having to use them. The same can be said for those who get a smart phone to surf the web versus someone who gets a smart phone for the level of camera that exists within the camera. Personal preference.
If someone that lives in a warmer climate has a jacket that uses GORE-TEX technology, they might not ever use that jacket for its intended use. But in case they find themselves in a tropical storm, it would be nice to know they could stay dry.
Buying something high-end and not using the item to its highest degree doesn't mean that you are squandering its usage, or rather, that you somehow NEED to use said item to its highest capability. You simply purchased the item to know that you have it in your arsenal, like an Iron Man suit.
Check out The Unidentified for more breakdowns of techwear functions and technology.
Cover photo accredited to Kieth Tio