Video Credit : NOCTA Twitter
Drake inked a legendary deal with Nike back in 2020, allowing him to break into the fashion scene in the same way in which Kanye West has broken into fashion with his adidas X Yeezy line. Odd that these two seem to always be at war with one another, or rather, always battling with one another in terms of exposure and success.
However, Drake partnered with none other than Nike for his brand, which is personally the more exciting choice. Drake's line is named Nocta, which is based on his "nocturnal creative process." What was unprecedented about Drake landing a massive deal with Nike, is the name. Nocta stands on its own. Not Drake X Nike or Nocta by Nike. Nocta. Someone he got the brand to exist without the additional Nike named added in conjunction with Nocta. However, the swoosh logo is still incorporated on every item.
Drake's Nocta brand has seen great success. The Nocta brand does bear a striking resemblance to a lot of technical clothing though. That would make a great deal of sense considering that Drake is from Toronto. The cold and wet environment is likely how and why the rapper was initially introduced to techwear brands that offer protection from such harsh weather. He could have easily been inspired by a ton of techwear giants like Acronym, Arc'teryx and The North Face.
Take the initial Winter 2020 release, for example. His releases look to be strongly inspired by the gorpcore style, mainly the Sunset Puffer jackets. Especially the orange one. These puffy jackets give off the exact style in which gorpcore fans would flock to. The insulated jackets offer the same kind of functionality that exits in typical gorpcore clothing like The North Face, Nuptse Jacket.
Image Credit : Jackson Lee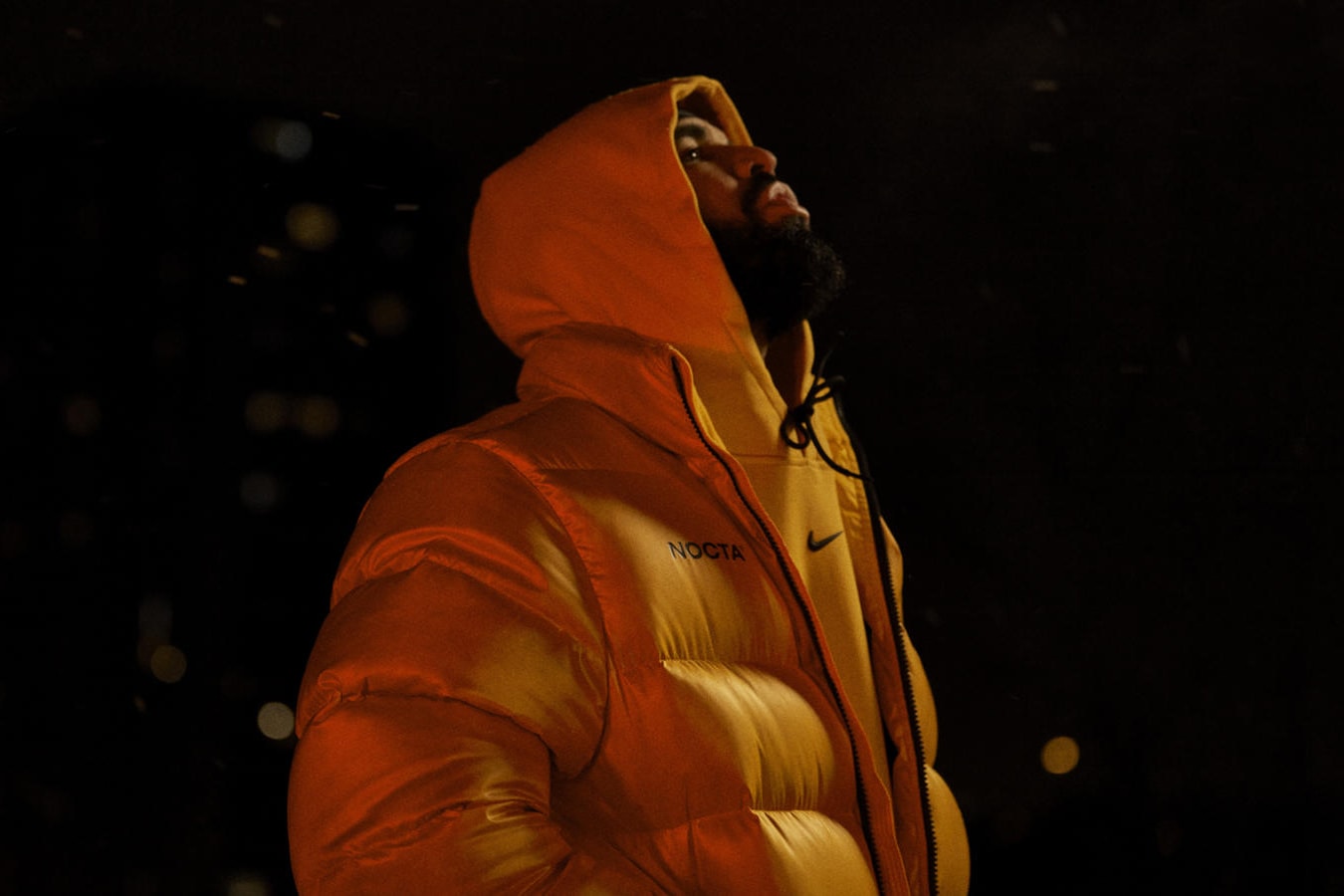 Image credit: hypebae.com
The 800-rated goose down filling in the Sunset Puffer is a prime example of jackets that fit the gorpcore style. High functionality via the fabric and technology that is fabricated within. These clothes could easily be used for treks through snowy environment but is likely used for style.   
One of the biggest elements of techwear comes in form of the past 2021 Spring release. The Alien Gore-Tex jacket looks to be every bit as identical as most outer shell jacket that techwear brands offer. Especially considering this jacket is packed with Gore-Tex technology. The jacket's description even boasts being lightweight and breathable, which are usual features in most techwear jackets. There are plenty of pockets with zippers and even a three-piece hood. This jacket looks to be like something heavily inspired by the Acronym style. 
The similarities do not stop there though. A lot of the Nocta's current collection gives off strong athleisure vibes as well. Take the Evelyn Nylon GLF Pants. Even though the pants are clearly made for golfing, as their name indicates, these pants are a more stylish version of track pants. They give off the athleisure style completely. The strong element of functionality exists in the pants as well. An elastic waist band and draw strings bring a level of comfort and functionality. The hems of the pants also feature zippered vents that allow for a cooling ability. We see you Drake.
It seems as if Drake saw the value in what techwear is and what it is starting to become. Although techheads may not necessarily be wanting to purchase some of the Nocta brand, it looks as if Drake is attempting to carve out a place among the techwear community.
It sure looks as if Drake has been wanting to break into techwear by some of the outfits he has been photographed wearing.